For seafarers
Azamara Group Ltd - is a crewing company that recruits staff for shipping companies. Company's business is licensed and certified according to the ISO 9001:2008 standard.
Our company will consider the positions of seafarers. "Azamara Group" considers seafarers of all positions for the further employment with a possibility of career enhancement and studying.
We offer the following services: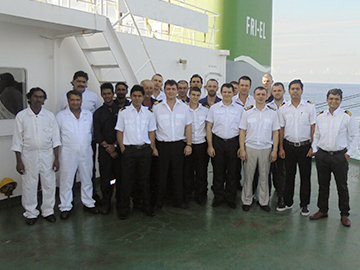 Intermediary and consulting services for seafarers employment with possible future career development
Assistance in obtaining a visa and travelling arrangements
Constant staff career enhancement
Educational programs for seafarers (Seagull CBT, CES, Marlin's)
Cadet program
Consulting services and seafarers' documentation examination
All services on employment are free of charge.
HOW TO SUBMIT A REQUEST FOR VACANCY
For available onboard vacancies, PLEASE contact us and/or send your Сv:

This email address is being protected from spambots. You need JavaScript enabled to view it.

.*

*Your CV will be registered in our Data Base in accordance with current data protection policy.